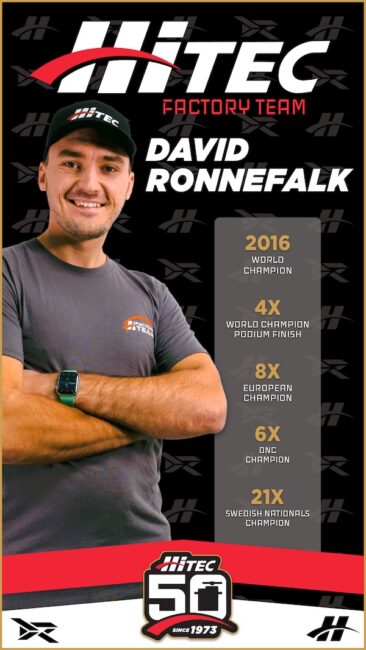 Hitec is thrilled to announce the addition of David Ronnefalk as our Flagship Racing Driver to the Hitec Factory Team. David's illustrious R/C career began when he was just a young boy, and at age 13, he became the youngest winner to secure the Swedish Nationals title. That very same year, in 2009, he secured the European 'B' Championships in Switzerland, solidifying his remarkable talent and ensuring he discovered his R/C career path. By 2015, David had become a full-time professional racer and he continues to dominate every series he enters.
Exclusively running Hitec servos in 1/8th and 1/10th on-road and off-road classes worldwide, David is an amazing addition to the Hitec family, as a team driver, brand ambassador and product development consultant. We look forward to a lucrative and winning partnership, both on and off the track. "Skål!" to years of combined success, and an elevated Hitec experience for us all!
"I'm really excited to start working together with everyone at the Hitec Group! It's safe to say that Hitec doesn't need much of an introduction with their business marking the 50th Year Anniversary. When I started racing in the early 2000s, my cars were equipped with Hitec gear and it's awesome to now have the opportunity to be involved in the development of their products. Looking forward to many years of cooperation and success!"

David Ronnefalk / Hitec Factory Team Driver
The post David Ronnefalk Joins Hitec Factory Team appeared first on Inside Unmanned Systems.